CYAN – Room made of glass
Performance for one dancer, two musicians and a transparent tent, that is being painted with blue and green colors.
PREMIERE: Friday 7th of Juli 2017 18h
"Forum für Kunst und Architektur", Essen
Danilo Cardoso / Tim Čečatka – Dance and choreography
Sebastian Wendt / Leonhard Huhn – Saxophone & Bassclarinet
Daniela Petry – Contrabass and concept
Jörg Meuser – Installation and concept
Visit CYAN premiere Facebook page
more shows: Alte Feuerwache Cologne,
Gruppe Moement thanks:
Kulturbüro Essen, Allbau Stiftung Essen, on – Netzwerk für Neue Musik Köln, Landesbüro für freie darstellende Künste NRW, landesbüro Tanz NRW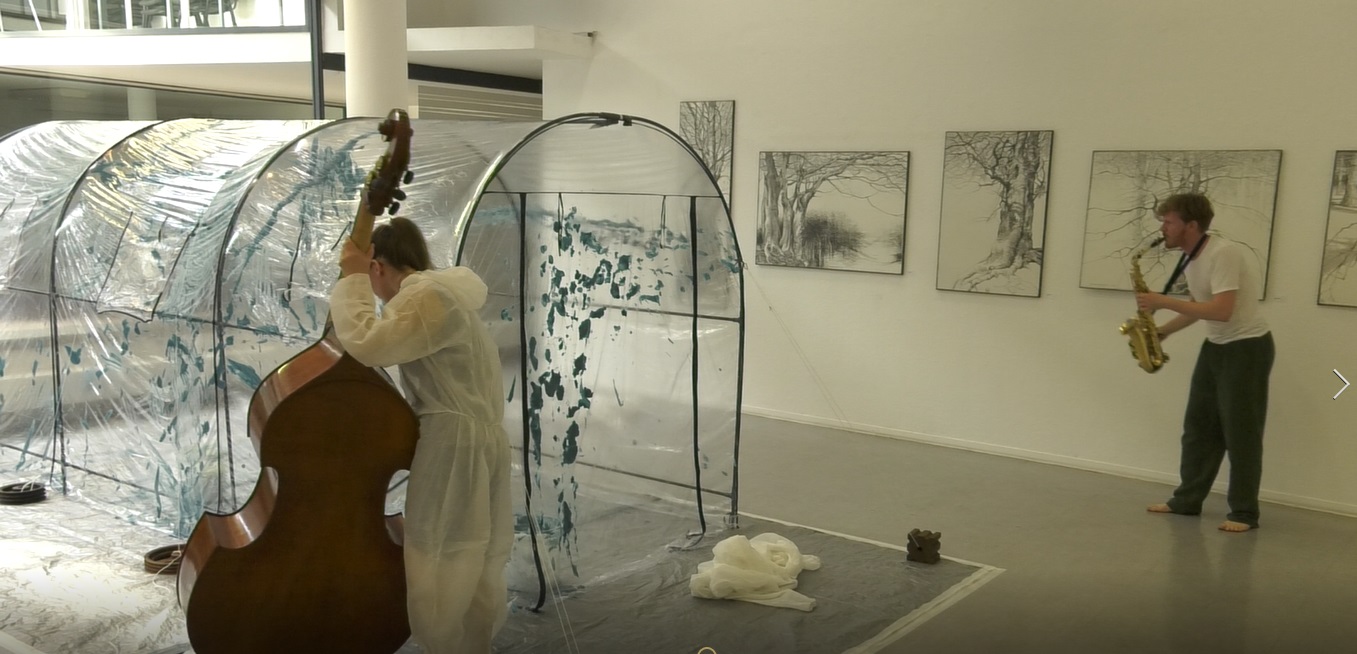 Someone earns money, someone else makes art. Yet another one is taking care of a child, while the other prefers to bake bread. All kinds of creatures, each woven it his or her own way, and all of the different stages of Being – so called life stages – all combined to create mixed forms. Concepts, compositions, works out of different disciplines and traditions. What makes a mixed form unique? Which elements define us, which can be replaced? Perhaps a mystical Chimera is just a cow that can lay eggs? Can we clearly see the differences, or are they painted over from time to time?
Cyan is a motto for mixed forms, that we get served by nature. That are so clear that we can see them, as if through a glass, but that we can also paint and make up the way we want. To the original compositions created by the members of Gruppe Moment we will add some improvisations together, and sounds, movements, colors will be cyan-ised.
Jörg Meuser, curator of an Exhibition "Brot für Alle – Satt ist nicht alles" (Bread for all – being full is not everything) in the Forum for Culture and Architecture invited us to the Forum within the framework of "Ruhrländischen Künstlerbundes e.V.". Cyan premiered during the culture festival Essen 2017 and was sponsored by Kulturbüro Essen.