News from inside| installative concert performance
MOMENT and guests
Lara Süss – vocals
Francesco Matejcek – physical theatre
Konstantin Heuer – electronics
Annegret Mayer-Lindenberg – viola
Robert Beck – clarinets
Daniela Petry – double bass
Frauke Meyer – scenic advice / direction
Sebastian Schottke – sound direction
Louis Wippich – lighting, technical assistance
Never before has MOMENT discovered such an exciting sounding place:
Audience wanders through a science-fiction-like terrain, while the sounds keep surprisingly changing places. Technoid sound aesthetics, virtuoso and brutal, the singer and clarinettist find new islands in the floating string sounds.
The title "News from inside" already reveals: It's about inwardness, about bridges between outside and inside, up and down, something is brought out – to the surface, which wasn't there before.
It is no coincidence that this place is located on a world heritage site of hard coal mining. Here, what had previously been brought to light from the inside had to be almost burned and then cooled down again.
Giant gas tanks transported the gas mixture on it´s way. –  A relic of change can now be seen there. We'll make it a story of its own. Thanks to "Transducers" we turn the tanks into sounding objects, the instruments play together with them, movement arises around the immobile bodies, so that they finally give up their rigidity.
In our "sound-research" – dates you can not only experience how it works, but also learn for yourself in the run-up to the premiere in our "sound research" events. Who knows which objects will then be equipped with "transducers"!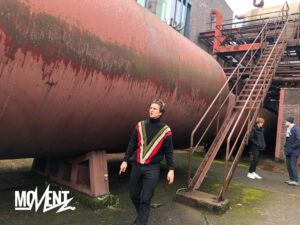 Dates
work-in-progress / sound research and concert <in/out>/ Come by, be amazed, ask questions, let your soles glow
Fri. April 14, 4:30 p.m.,
Fri. June 23, 4:20 p.m.
Sat. June 24th 6pm
Premiere / Festival Extraschicht at Zollverein
Sat/Sun 24. /(night to)June 25th 0:15h + DJ Set
Exact location
Background from News from Inside:
Technical processes, group dynamics, sound and rhythm: Everything follows the same principles that occur in nature, both large and small. Geometrically, these principles can be represented in forms and explained in simple equations, but apart from that always and everywhere there are marginal areas in science, unknown quantities in space and time. – We call it improvisation.
Following the tradition of the miners we value the unseen. We consciously bring all this to the surface and thus continue the tradition of the place.
There are nine specialists in their field, all in a spirit of discovery to prepare an immersive experience. We are interested in presenting the performance to a most diverse audience: From youngsters to festival-audiences – we look forward to meeting you!
Presskit:
Audio samples (c) Sebastian Schottke / Marco Birkner
Photo (c) Leon Schirdewahn-Debring
—