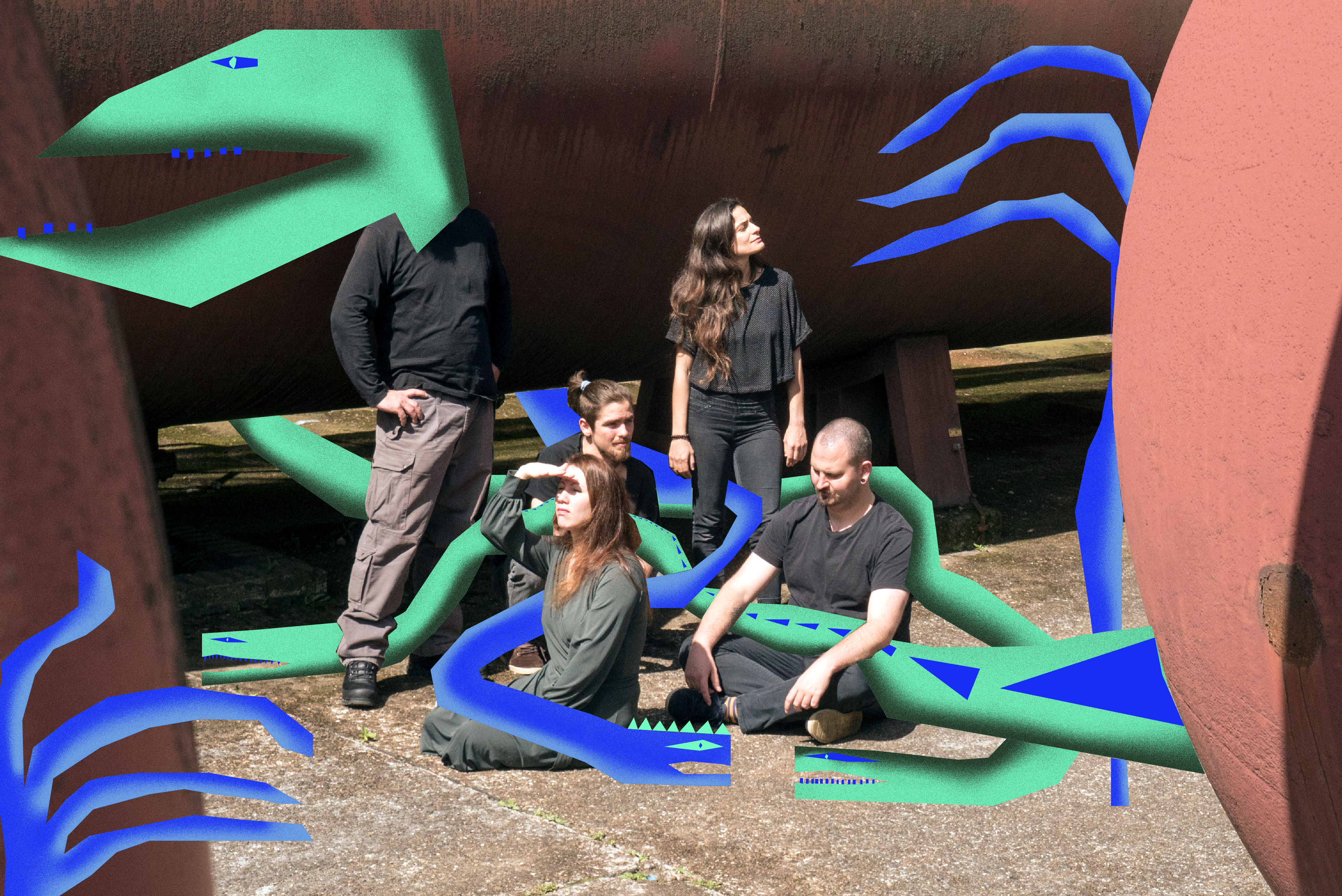 An interactive, partly digital dance and music theater performance in public space. Inspired by a work of a renaissance – days´scientist, G. Agricola, named "About the creatures of the underground" (*1).
"Friendly and hostile beings" live underground, according to him, they treatise and intervene in people's everyday lives.
The five characters of beings, as well as the creation of new realities through their alleged Existence takes the group Moment as an opportunity to show the topic as a street performance.
The Performance
From loudspeakers, as well as from the smartphones of people in the audience, who want to join in, an electro-acoustic soundscape is created. The soundtracks are controlled by the composer himself, who uses an app to play 6 tracks of music in creates real-time. (*2)
Dance scenes and acoustic chamber music, as symbolic spirits, manipulate this overall event. An electro-acoustic sound surface is subsequently changed, distorted, further developed.
Music theater in 4 scenes
program
Fury for Kb Solo, R. Saunders (Inspiration in Overture, Sax, Kb, Percussion)
Demons for Sax Kb Percussion, S. Wendt
Rebonds A for Perc. , I. Xenakis (arr. For Low Wind & Kb, D. Petry)
7 Zwerge for sax Kb percussion, S. Wendt
Quintett für 5 wandelnde Lautsprecher, commissioned to S. Wendt
Dance & Choreography: Danilo Cardoso Dance & Performance: Phaedra Pisimisi
Music & Performance: Norman Jankowski – percussion Daniela Petry – double bass Sebastian R. A. Wendt – clarinet, bsax, composition & programming (*2) Tamon Yashima – Electronics / Performer
Director: Frauke Meyer
Stage design / backpacks: Sebastian Steinhauer – Dsenne/ Theater Dortmund
Costume: Julia Weinstock
Video documentation: weareframeless/ Vincent Franken, Wuppertal
Background
Agricola describes creatures living underground as diverse, peaceful and hostile, Characters who intervene in the miners' day-to-day operations. In the context of his time, his treatise as a recorded observation is a reality. We too live in a time in which truths are manipulated and controlled, in which often at first glance, who is friend and who is foe is transfigured. The group Moment extracts this process under the burning glass directly in everyday life invited and random guests. Press kit download (170MB):
 presskit strassengeister GM juni21
(*1) Agricola, Georg: Georgii Agricolae De re metallica libri XII. Eiusdem De animantibus subterraneis liber, ab autore recognitus,
Basel 1556. (montan.dok Bergbaumuseum Bochum 1274/1) https://www.bergbau-sammlungen.de/de/aktuelles/die-fabelhaftewelt-
des-georg-agricola-von-tieren-und-berggeistern-unter-tage
(*2) Android-App Csound
sends control data to smartphones in every backpack on the performers' bodies. In These are samples of the composer that are saved in real time according to a fixed sequence and dramaturgy for the composition will. In this way, the course and surroundings can be dealt with flexibly.
Gruppe Moment thanks for support:
(Production) musikfonds, Kulturamt Essen,
(Decelopment) Fonds daku "NEUSTARTKULTUR #takecare", on – cologne, Labor519 gem.V. (Dokumentation)
Yeah – a wonderful video podcast about street ghosts is being created! Look here:
(choose english subtitles in video-menu)
#1 Research and process with direction Frauke Meyer, Daniela Petry
#2 Composition | Electro – Acoustic – Performance Sebastian R.A. Wendt, Daniela Petry | code linked!
#3 Develop | Dance and performance for everyone Phaedra Pisimisi, Tamon Yashima, and Danilo Cardoso